January 12 Severe Storms, Straight-Line Winds and Tornadoes
Major Disaster Declared for Affected Georgia Counties, Individual and Public Assistance Available
Governor Brian Kemp has announced residents in the Georgia counties affected by January 12 severe storms, straight-line winds and tornadoes are now eligible to apply for disaster assistance. The disaster declaration covers Butts, Henry, Jasper, Meriwether, Newton, Pike, Spalding and Troup Counties for Individual Assistance, and Butts, Crisp, Henry, Jasper, Meriwether, Newton, Spalding and Troup Counties for Public Assistance.
Individuals in these designated counties can apply for assistance in any of the following ways:
Online at DisasterAssistance.gov
Calling 1-800-621-3362
People who are deaf, hard of hearing or have a speech disability and use a TTY may call 800-462-7585.
For more information, visit https://gema.georgia.gov/press-releases/2023-02-13/disaster-assistance-available-pike-and-crisp-counties.
FEMA Amended Declaration 02.13.23.jpg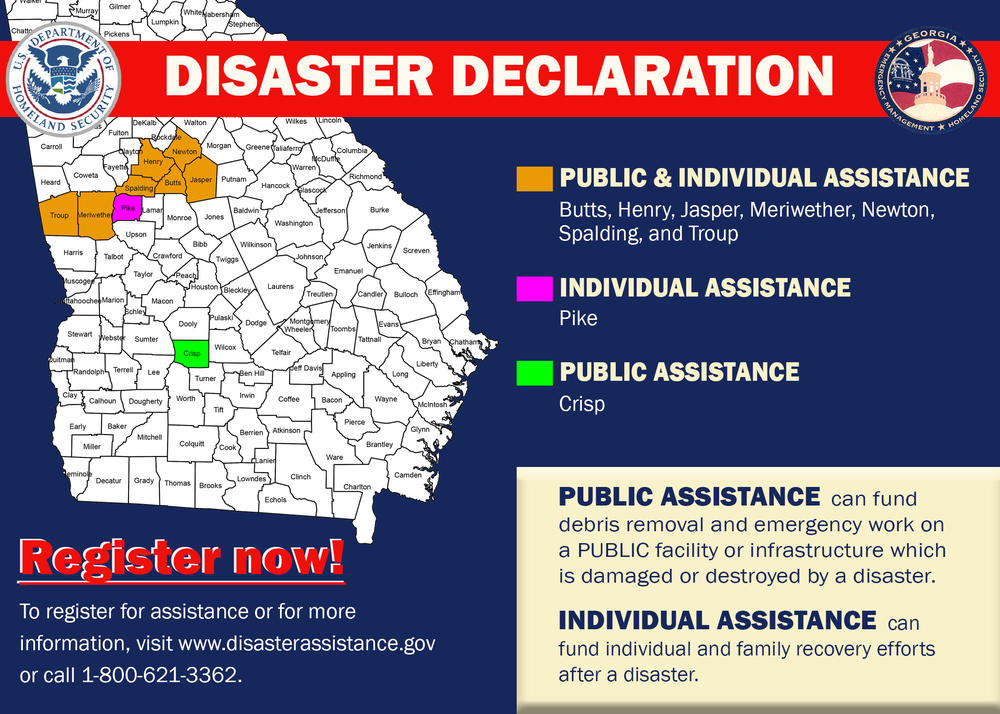 Disaster Unemployment Assistance
The Georgia Department of Labor has announced that Disaster Unemployment Assistance is available in the disaster-declared counties.
Disaster unemployment benefits are TEMPORARY benefits for people whose employment or self-employment has been lost or interrupted as a result of a major disaster and who are not eligible for regular unemployment benefits. The deadline to apply for benefits is February 17.
For more information, call 1-866-584-8027, 1-404-527-8793 or view the flyers below.
Legal Assistance Hotline
Legal Assistance
The Disaster Legal Services Hotline is a partnership between the ABA's Young Lawyers Division and Georgia Team Ready, a collaboration between Alston & Bird LLP, Georgia Legal Services Program, Kilpatrick Townsend & Stockton LLP, King & Spalding LLP, Troutman Pepper Hamilton Sanders LLP, and the Young Lawyers Division of the State Bar of Georgia that offers affected individuals in disaster declared counties free legal assistance.
The Hotline helps those who need:
Assistance with securing FEMA and other government benefits available to disaster victims.

Assistance with life, medical and property insurance claims.

Help with home repair contracts and contractors.

Counseling on mortgage foreclosure problems.

Assistance in consumer protection matters, remedies and procedures.

Replacement of identity and other important legal documents destroyed in the disaster.

Counseling on landlord-tenant problems.

Volunteer lawyers will provide counseling, assistance, and/or referrals to aid callers in their recovery.
Insurance Disaster Claims Tips
Below are a few tips to keep in mind when dealing with your insurance during a disaster.
While a standard homeowner's insurance policy covers damage from high winds and tornadoes, it does not cover damage from flooding. A separate policy must be purchased through the National Flood Insurance Program, and can only be purchased if your community participates in the national program. However, a standard mobile home policy can cover damage caused by floods. Check your policy.
Make a list of all valuables, furniture, electronics, etc., and photograph or videotape your possessions. Keep copies of the list, photographs and videotape in a safe place outside your home, such as a safe deposit box. If your home is damaged or destroyed in a natural disaster, it may be difficult for you to tell your insurance agent what you lost without proof.
Keep your insurance policy numbers and your agent's phone number in a safe place as well.
For more information, please visit oci.georgia.gov/safety-tips-severe-weather.
Disaster Insurance Forms and Documents
Reporting Damages
Residents that receive damage from Hurricane Ian should report their damages through this portal. It is designed to allow for Georgia citizens to self-report damages to their homes, businesses, and public facilities. This information can be used by GEMA in order to visualize and summarize damage assessments as they are collected by the public. The information submitted through this form still needs to be verified by local, state, and federal emergency management officials before determining whether damage caused by a natural or man-made disaster exceeds State or Federal declaration thresholds. Please visit FEMA's Individual Assistance Web Page for more info regarding Individual Assistance. Visit GEMA's Public Assistance Web Page for more information regarding Public Assistance. You may report damages here.
Voluntary Organizations Active in Disasters
Many partner organizations work in coordination with Crisis Clean-up or local officials to accept work tasks. Here is a list of VOAD resources available in Georgia.
Volunteer and Donations
The Spalding County tornado donations/distribution center is below.
        City Church 
        220 E. Solomon Street
        Griffin, GA
Butts and Henry Counties are forwarding donations and spontaneous volunteers to the Spalding County Call Center. You may reach them by calling 678-453-4508. For more information, visit https://www.spaldingcounty.com/griffin-spalding-tornado-relief-fund/.