State of Emergency
Governor Brian Kemp issued a State of Emergency order for all counties in Georgia in preparation for Tropical Storm Ian's impact. As the storm moves through the state beginning on Friday and exiting on Sunday, heavy rainfall and damaging winds will be possible throughout Georgia. The State of Emergency will go into effect at 7 a.m. on Thursday, September 29, and will expire at midnight on Friday, October 28. Read executive order 09.27.22.01.
PAO_WeatherMAP_SOE_9.27.22.jpg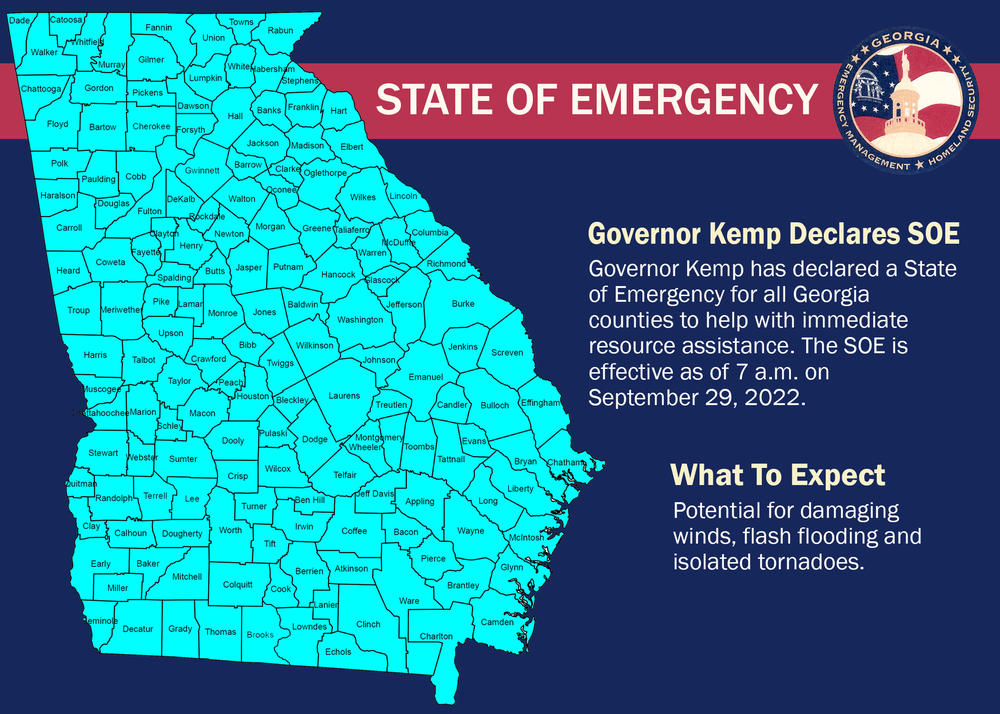 Tropical Storm Ian
Update as of 8:58 a.m. September 29, 2022:
Ian weakened overnight and is now a tropical storm with maximum sustained winds of 65 mph. It is currently moving off the east-central coast of Florida to the northeast at 8 mph.
The forecast track has shifted to the east since yesterday, and Ian is expected to make a second landfall as a tropical storm in South Carolina tomorrow. This has also shifted potential impacts to Georgia eastward. Heavy rainfall (2 to 4 inches of accumulation) and gusty winds (30-40 mph) will still be possible in East and Southeast Georgia today and tomorrow. 3 to 5 feet of storm surge is still possible along the Georgia coast today and tomorrow morning. The storm will weaken inland overnight Friday before dissipating throughout the day on Saturday.
Significant impacts are still possible in eastern portions of Georgia even with the eastward track shift. A Tropical Storm Warning, Hurricane Watch, Storm Surge Warning, and Flood Watch remain in effect for the entire Georgia coast through tomorrow. A Wind Advisory is also in effect for much of North and Central Georgia. Please continue to monitor forecast updates from the National Hurricane Center, your local National Weather Service office, and reliable media outlets.
9.29.22 11 am.PNG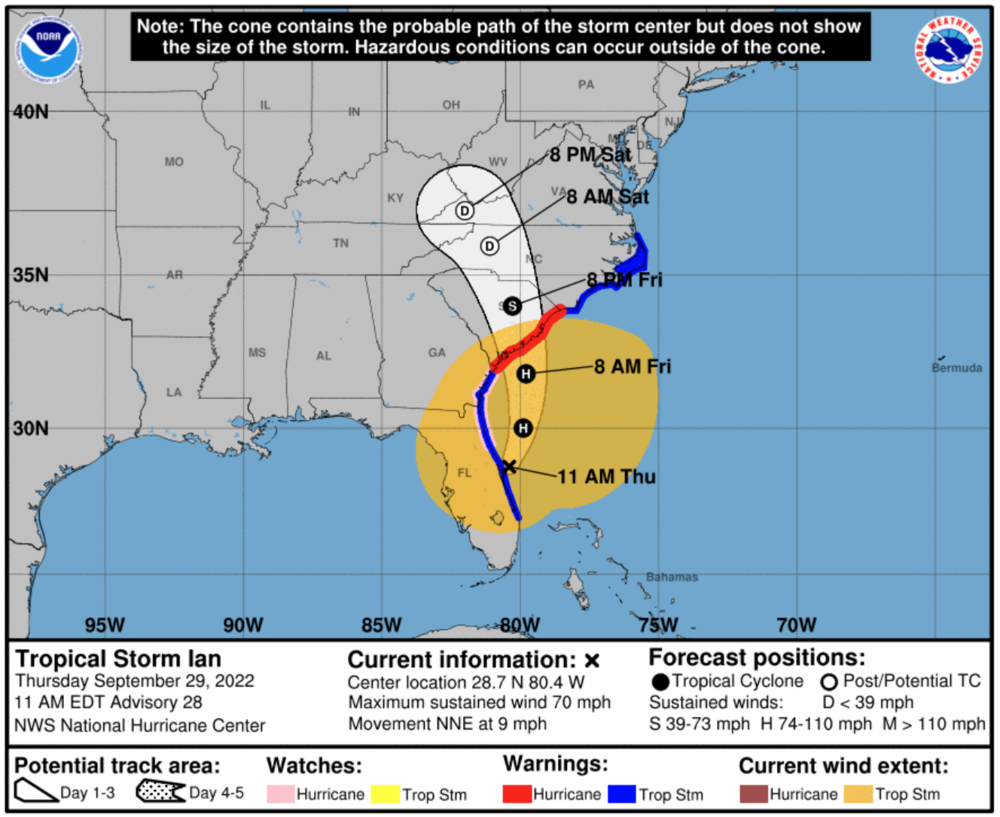 Visit our hurricane information page for preparedness tips on what to do before, during and after a storm.
Reporting Damages
Residents that receive damage from Hurricane Ian should report their damages through this portal. It is designed to allow for Georgia citizens to self report damages to their homes, businesses, and public facilities. This information can be used by GEMA in order to visualize and summarize damage assessments as they are collected by the public. The information submitted through this form still needs to be verified by local, state, and federal emergency management officials before determining whether damage caused by a natural or man-made disaster exceeds State or Federal declaration thresholds. Please visit FEMA's Individual Assistance Web Page for more info regarding Individual Assistance. Visit GEMA's Public Assistance Web Page for more information regarding Public Assistance. You may report damages here.