Adjutant General Thomas Carden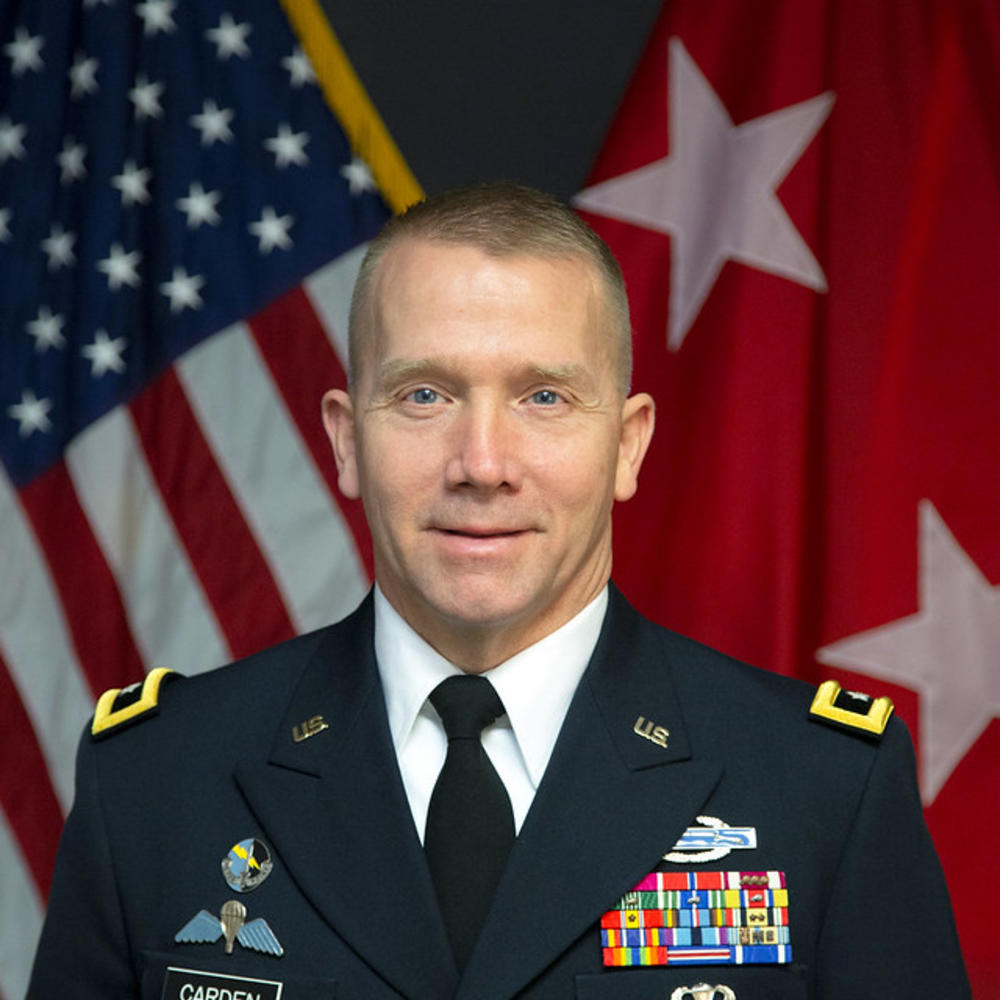 Adjutant General, Georgia Department of Defense
Homeland Security Board Members
Major General Carden was appointed by Governor Kemp in January of 2019 as the 43rd Adjutant General of the Georgia Department of Defense. He is responsible for directing, coordinating, organizing and stationing the Army and Air National Guards of the State of Georgia, the Georgia State Defense Force,  and federal and state civilians, ensuring their readiness to perform state and national missions.
In 1986, Major General Carden enlisted in the Georgia Army National Guard as an infantryman.  He was commissioned as a second lieutenant in August 1989 after completing officer candidate school. His military education includes the Infantry Officer Basic Course, Infantry Officer Advanced Course, the Combined Arms Services Staff School, the United States Army Command and General Staff College, and the Army War College.
Major General Carden has held a number of key positions in the Army and Georgia Army National Guard. Most recently, he served as Deputy Commanding General of the North Atlantic Treaty Organization's Multi-National Division Southeast (Romania). Major General Carden previously served as the Georgia Army National Guard Commanding General, chief of staff,  deputy chief of staff for operations, and deputy chief for personnel.
Major General Carden Commanded the 560th Battlefield Surveillance Brigade and the Georgia Army National Guard's Recruiting and Retention Battalion.  He also served as the operations officer for the 2nd Battalion, 121st Infantry Regiment.  While serving in this capacity, he deployed to Bosnia, Herzegovina as part Operation Joint Forge.  In 2005, he deployed to Iraq with the 48th Infantry Brigade Combat Team as part of Operation Iraqi Freedom.  
Major General Carden's military decorations include the Legion of Merit, the Bronze Star Medal, the Meritorious Service Medal, the Army Commendation Medal, the Army Achievement Medal, the Army Reserve Components Achievement Medal, the National Defense Service Medal, the Armed Forces Expeditionary Medal, the Humanitarian Service Medal, the Armed Forces Reserve Medal, the Combat Infantry Badge, and the Parachutist Badge.
Major General Carden graduated from Georgia Southwestern State University in Americus with a Bachelor of Science in History.  He later earned a Master of Arts in human resource management from Webster University in St. Louis, Mo. and a Master of Science in Strategic Studies from the Army War College.