Disaster Declaration
FEMA Amended Declaration_09.10.23.png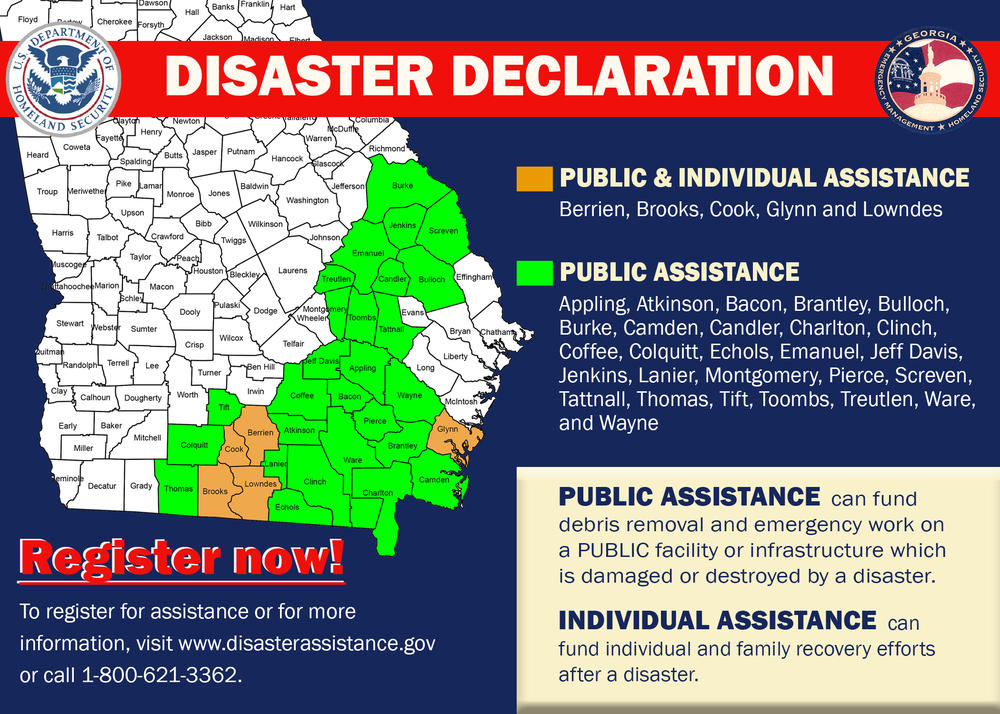 Governor Brian Kemp has announced several additional Georgia counties affected by Hurricane Idalia are now eligible to apply for disaster assistance. The disaster declaration has been amended to include Berrien and Brooks Counties for Individual Assistance, and Burke, Montgomery, Toombs and Treutlen Counties for Public Assistance.
Disaster Recovery Centers
Disaster Recovery Centers are dedicated, accessible and established locations, where specialists from FEMA's Individual Assistance program can help survivors face-to-face. Highly trained specialists assist survivors through the recovery process, explaining the types of assistance available from FEMA, such as housing and other needs assistance. The deadline to apply for assistance was November 6, 2023.
Business Recovery Centers
The U.S. Small Business Administration (SBA) is offering low-interest disaster loans to businesses and residents in Georgia who received damages from Hurricane Idalia. Berrien, Brooks, Cook, Glynn, and Lowndes counties are eligible to apply for both Physical and Economic Injury Disaster Loans, while small businesses and most private nonprofit organizations in Atkinson, Brantley, Camden, Coffee, Colquitt, Echols, Irwin, Lanier, McIntosh, Thomas, Tift, and Wayne counites are eligible to apply only for SBA Economic Injury Disaster Loans (EIDLs).
Customer Service Representatives at the Center will assist business owners and residents to complete their disaster loan application, accept documents for existing applications, and provide updates on an application's status. The operational schedule for the centers are listed below.
Crisis Cleanup
Crisis Cleanup is a collaborative disaster work order management platform that improves coordination, reduces duplication of efforts, improves efficiency, and improves volunteers' experience.
If you need assistance with clean up of damages from Hurricane Idalia, call Crisis Cleanup Hotline at 800-451-1954.
Scam Awareness/Insurance
Beware of scammers! After a disaster scammers try to take advantage of people's suffering. Before you engage anyone for service, be sure to verify they are licensed by your city, county or the State. Do not engage with anyone who is not licensed. Licensed contractors will have proof of being a legitimate business, provide a written estimate, and will not ask for money in advance. Further, contact your insurance company before clearing debris or starting repairs.
If you decide to work with a public adjuster on your storm damage claim, ensure they are licensed in Georgia before signing any documents. Credentials may be verified here.
Volunteer/GA VOAD
GEMA/HS partners with Georgia VOAD (Voluntary Organizations Active in Disaster) before, during and after emergencies. Georgia VOAD consists of organizations active in disaster response throughout the state of Georgia. Their role is to bring organizations together, enable them to understand each other and work together in a cohesive manner. To accomplish these goals, Georgia VOAD meets with its member organizations monthly to share information and training opportunities. These meetings also provide opportunity to conduct business, plan, network, and provide updates on current disaster relief efforts.
In the aftermath of a natural disaster, like Hurricane Idalia, many people look for opportunities to assist their communities. The most effective way to do so, is by making a monetary donation to a trusted, reputable voluntary or charitable organization. Do NOT send goods, as it takes staff and time to sort, package, transport, warehouse, and distribute. To volunteer, donate, or learn more, click here.